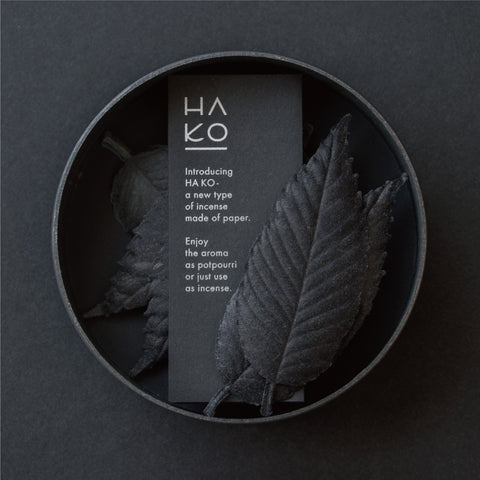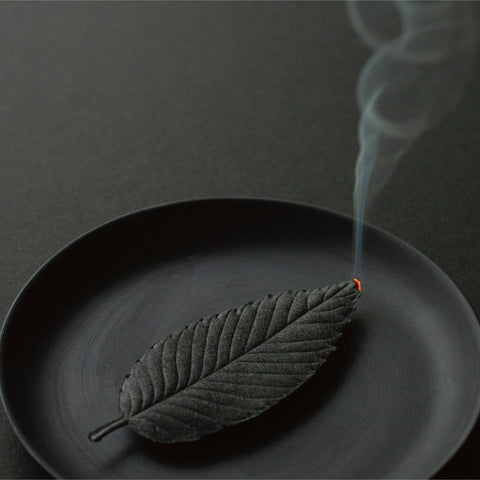 HA KO Paper Incense Black - Set of 6 (Relax)
Black No. 01 Relax -  Reminiscent of a quiet forest grove, this scent is perfect for deep relaxation. Vetiver relieves tension, and cypress calms the mind. Notes of vetiver, cypress, hiba, bergamot. 

Set of 6 incense leaves.

Whereas the original collection of HA KO Paper Incense showcases one fragrance at a time, the scents used in this special offering were carefully selected and blended to promote relaxation, increase focus, and lull you into a deep sleep. Each leaf can be used as subtle potpourri, giving off fragrance for up to three months, or as incense that burns for approximately seven minutes while cleansing and deodorizing an area. This special set of six leaves comes in a sleek black container and includes a non-flammable felt mat.

Dimensions: 3.5" L x 3.5" W (packaging)

How to use: After lighting a piece of HA KO Paper Incense, blow out the flame and place the smoldering leaf on a felt burner mat (included), which should itself be on a flat, non-flammable surface. Each leaf will burn for approximately 5 - 7 minutes.