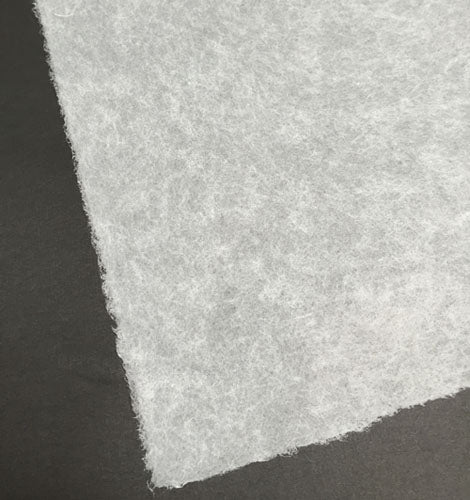 BC Tissue(4 g/m²)
Size: 11.8"x 16.5"
Weight: 4 g/m²

Materials: Japanese Mitsumata and Kozo base with Bacterial Cellulose (Gluconacetobactercilinus)
Handmade in Germany by Gangolf Ulbricht

BC Tissue is used to repair parchment, coated paper, and transparent paper (architect drawing paper). The sheet formation is much tighter than Gangolf's Berlin Tissue, resulting in the fibers not being as strongly visible. No further additives is needed for the coated paper feel and look that the BC Tissue gives.

Bacteria is grown in a biomedical institute who harvest and use the cellulose. Gangolf receives the clean "leftover" cellulose in the dry stage for his paper. The bacterial cellulose is also called Nanocellulose.The special part is the microcrystaline structure, which is much higher than in plant cellulose.

Funded by the German government, BC Tissue was developed as a research project with restorer Annegret Seger. As seen in IADA XIIIth Congress paper "Bacterial Cellulose" A new material in paper conservation.